Real Food for Real People… In Real Time.
Forget everything you thought you knew about soup. This is the Soup Cup. Traverse City's one and only Microsouperie® (think microbrewery, but for soup). Here every one of our 873 original-recipe soups —8 served fresh daily—is crafted by our resident, ACF Professional Certified Executive Chef. Yes, a Soup Chef! We call him Scott. And he creates every soup from scratch. Heck, he makes all our stock from scratch, using local ingredients from our three-county area. No cans. No boxes. No kidding. Don't believe it? Sample one…or eight. (We love to share!) You'll never look at soup the same again. Seriously.
Did we mention our fries….our BELGIAN Fries?! Made from hand cut, locally grown potatoes. We quickly blanch them, cool them, then flash-fry them for a crispy exterior and a warm, mushy interior. Add one of our 23 dipping sauces and you're in heaven.
Oh, and don't forget our ooey, gooey (and unpretentious) Grilled Cheese sandwiches. Choose from American, Swiss or Pepper Jack. Or if you have a sweet tooth, try our creamy, delicious Apricot Chantilly.
We take soup seriously….and have fun doing it!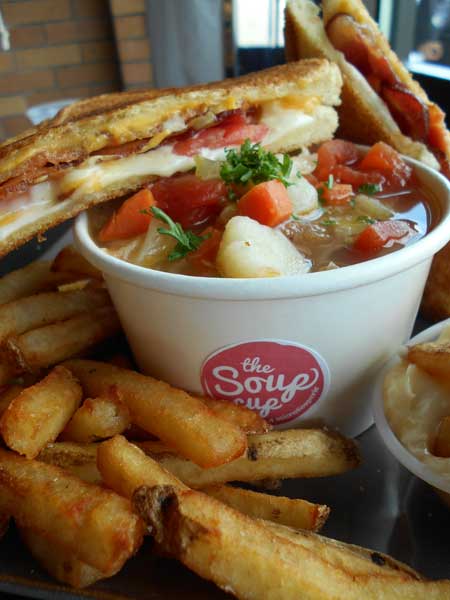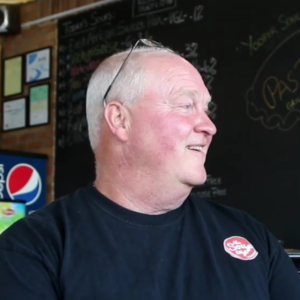 Meet Scott
Scott is a Professional Certified Executive Chef with a Culinary Degree from Kendall College in Evanston, IL. He is a member of the American Culinary Federation (ACF). Scott has been a chef for over 30 years, as well as a Culinary Educator and Culinary Curriculum Chair for seven years.
As a Professional Certified Executive Chef, Scott was responsible for entire food service operations for a wide variety of establishments, including resorts, independent restaurants, banquet operations and more. Scott received his certification as an ACF Certified Executive Chef after an extensive education, tenure in the Culinary Arts profession, and culinary accomplishments and recognition in competitions and exhibitions.
Under Scott's careful and committed guidance, our hand-crafted, made-fresh-daily soups are changing the world! (Okay, Traverse City…for now.)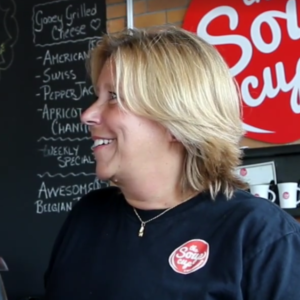 Meet Rita
A Financial Manager in her previous life, Rita holds a Bachelor of Science degree from DePaul University. She has extensive experience in General Accounting, Cash Management, Financial Analysis, Staff Management and more. In short, Rita's the "business side" of The Soup Cup. But she's also the "face" of The Soup Cup too. Her shining smile and warm greeting welcomes customers…giving each a warm feeling even before they sample our soup! Oh, and Rita loves to give out samples. She and her dedicated "Soup Team" hand them our faster that you can say "Yes, please."