Soups on Tap Today 
To The Soup Cup Community:
On behalf of our entire team, we want to thank you for your support and understanding during this difficult situation.  The health and safety of our guests and team members is our #1 priority and we take this current health crisis VERY seriously. 
In support of the State of Michigan's efforts to increase social distancing and help stem the spread of COVID-19, The Soup Cup has made the difficult decision to temporarily suspend operations at this time.
We hope that you and your families stay well.  We look forward to being able to welcome you back to The Soup Cup in the near future.
Best,
The Soup Cup
Don't forget to pair your SOUP up with a Gooey Grilled Cheese
and/or some AWESOME Belgian Fries 😉
Today's SPECIAL Grilled Cheese:
R U ready to Taste some SOUP?
The Soup Cup a MicroSouperie
                                                                         718 Munson Ave – East Bay Plaza
Traverse City, MI
231-932-SOUP
In a rush?  No Soup Tasting wanted…just Call In your Order and head to the SOUP EXPRESS line!
                                                                                                    23 sauces for your FRIES……
Can't get TO The Soup Cup? Get LUNCH Delivered!
Just click the link below: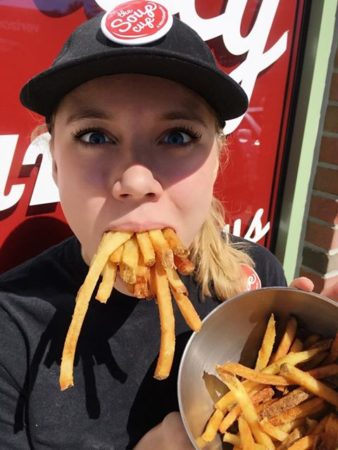 Mmmmail List
Are you a SOUPer fan? Sign up for our weekly specials email or tell us what favorite menu items your taste buds are craving and we'll alert you when to clear your lunch schedule.