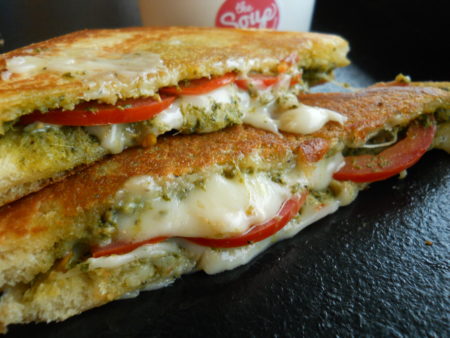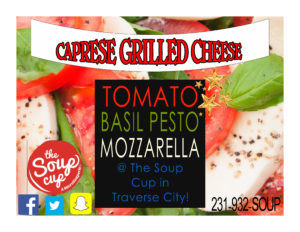 Soups on Tap TODAY
Friday, December 6th:
#1 Lebanese Vegetable – VGL
#2 Montego Bay Red Pea – GL
#3 Cream of Tomato – G
#4 Roasted Chicken with Brown Rice – GL
#5 Mulligatawny
#6 Bavarian Beef Spaetzle – L
#7  Shrimp & Mushroom Chowder
#8 Smokey Beef & Bacon Chili – L
Don't forget to pair your SOUP up with a Gooey Grilled Cheese
and/or some AWESOME Belgian Fries 😉
Today's SPECIAL Grilled Cheese:
The "Caprese" Grilled Cheese
(Basil Pesto, Tomatoes, Mozzarella)
R U ready to Taste some SOUP?
The Soup Cup a MicroSouperie
                                                                         718 Munson Ave – East Bay Plaza
Traverse City, MI
231-932-SOUP
In a rush?  No Soup Tasting wanted…just Call In your Order and head to the SOUP EXPRESS line!
                                                                                                    23 sauces for your FRIES……
Can't get TO The Soup Cup? Get LUNCH Delivered!
Just click the link below: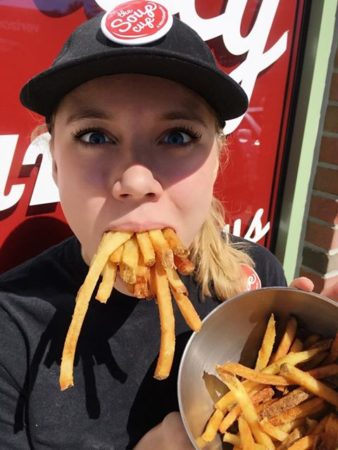 Mmmmail List
Are you a SOUPer fan? Sign up for our weekly specials email or tell us what favorite menu items your taste buds are craving and we'll alert you when to clear your lunch schedule.