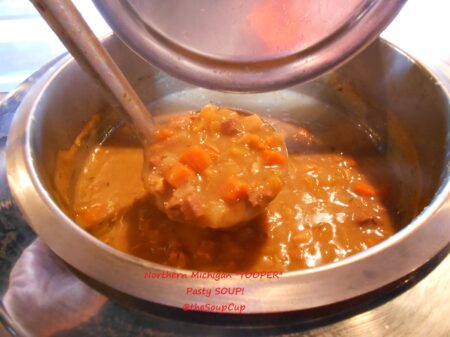 Try our ONLINE Order Site:
Call In or Order Online (Pre-Order Available – just click on CHANGE TIME on Pickup Page)
for Curbside pickup on Tuesdays and Thursdays!
10am-3pm
231-932-7687
"HOT SOUP NOW"
Thursday, May 6, 2021
Summer Squash – VGL
Buffalo Chicken
Michigan "Yooper" PASTY SOUP
White Turkey Chili – G
AND
FROZEN Fan Favorite SOUPS to YOU:
(Available in 16oz size ONLY)
Garden Vegetable – VGL
White Bean and Tomato – VGL
Canadian Cheese
Green Split Pea with Ham – GL
Creamy Tomato – G
Chicken Noodle – L
Classical Cream of Chicken
German Cheeseburger Soup "Hackfleisch Suppe" – G
Western White Bean & Chicken Chili – GL
**Limited Quantities – GET SOME TODAY and StockUP!
Call In or Order ONLINE your Curbside Pickup Order starting at 10:00AM – 231-932-7687
OR
Drive UP…Call UP(or use your phone to Order ONLINE)…Place your order…Soup in 2 minutes to You!
(Just remember, Early Bird gets the Soup – so if you REALLY want a Specific Soup, just call in early and reserve it)
Last Day to SHIP Frozen SOUP for the Season is April 30th.  Shipments restart in September 😉
Chicken Noodle Soup Chicken Noodle Soup Chicken Noodle Soup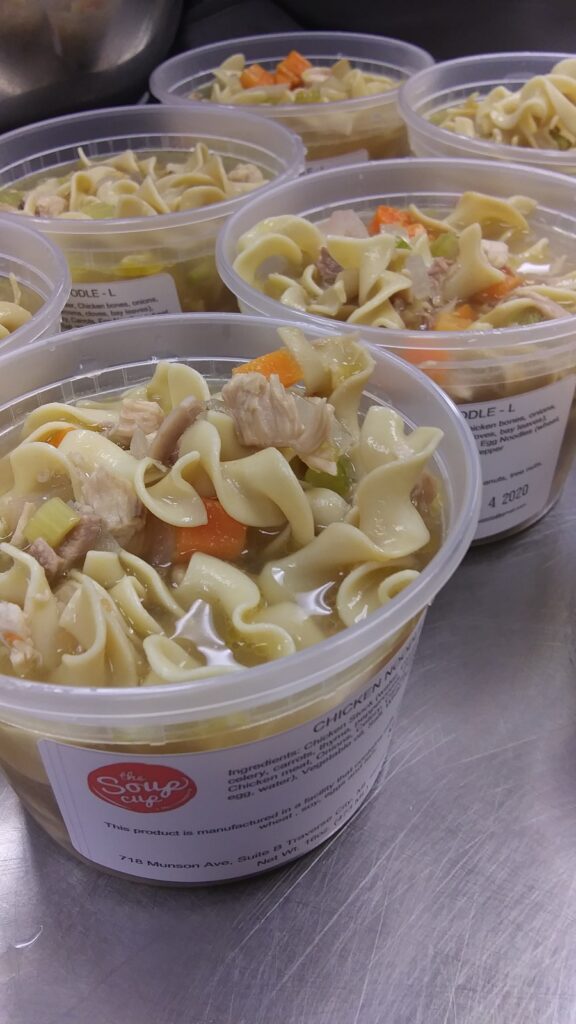 Keep your SOUP Hot! SOUPER Soup Cup Thermos - $19.95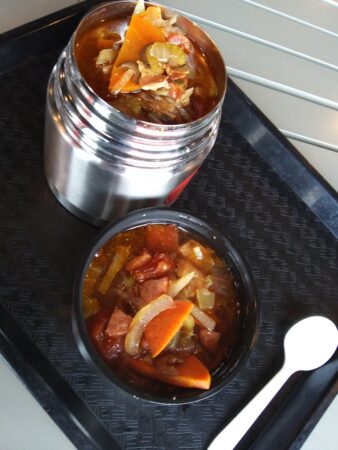 Here's how Soup Cup will operate at this time:
Obviously, no more Soup Tastings, so we're hoping your memories serve you well ?. Also,

only

Curbside Pickup

, no inside service or dining.
And we're going to have YOU tell us how much Soup you want us to make. What does that mean?
It means that

"Hot Soup Now" will be available on Tuesdays and Thursdays ONLY

.  We are making 4 Soups daily and adding quantities and varieties as YOU drive our business.
        Will the Soups be different every time? YES!
Will there be More and More Soups to buy? We sure hope so, but only YOU will drive that decision….so BUY SOUP! ?
And now we had added a NEW Soup option for those of you who live out of driving distance or love a Specific Soup and want to have it in your freezer for when YOU want it.  Yes, we will sell 12 Souper Popular Soup Cup "FROZEN" Soups.
They will be available for purchase either for Curbside pickup and

Shipments Seasonally

! Wha? Yes, it's TRUE…SOUP is coming to YOU!  
But NOW let's chat HOW "Hot Soup Now" will be available to YOU on Tuesdays and Thursdays:
"Hot Soups Now" will be posted the day before, as usual on our website here, FB, Twitter and Instagram (@theSoupCup).

To purchase "Hot Soups Now", starting at

10:00AM

the Soup phone lines open, as well as the ONLINE ORDERING page.

CALL IN your Soup Order to 231-932-7687, or place your order online for curbside pickup.

Your Soup Order will be taken, paid for with your debit/credit card on that call, you will tell us WHEN you plan to PICK-UP your "Hot Soup Now".

We will dish up Soup orders in the order that they are received. That means the Early Bird Gets the SOUP! 

Calling for Soup is going to be a bit like calling for Concert tickets…if you don't get through, CALL, CALL Again!

So let's say you Call us at 11:15AM. You place your order for Soup pickup at 12:30PM. We will take and process your Soup order. When you arrive at 12:30PM you will call us to let us know that you have arrived. We will place YOUR Soup Order with Your Name on the bag on the Table by the door.  All you have to do is come and grab the bag!
So, that's "Hot Soup Now".
The Faster YOU buy out our Soup, the MORE Soup we will make!
Get your phones ready, save 231-932-7687 in your Contacts.  Or bookmark https://the-soup-cup.square.site/ for Online Ordering.
The Soup Cup a MicroSouperie
718 Munson Ave – East Bay Plaza
Traverse City, MI
231-932-SOUP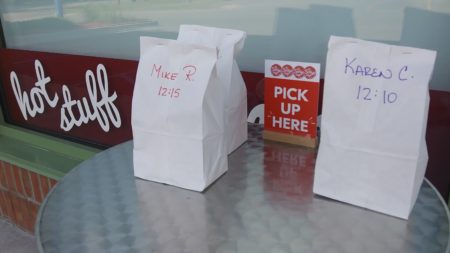 Soup Sizes - Regular (8oz); Large (16oz); Quart (32oz) and Flight of 3 Regular Soups (8oz x 3)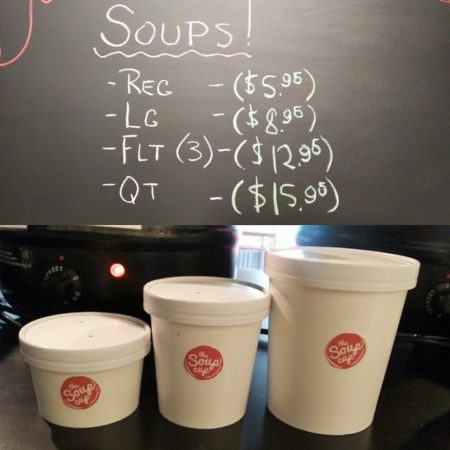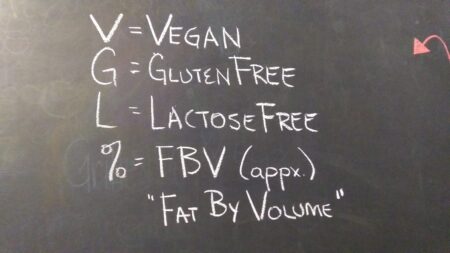 Mmmmail List
Are you a SOUPer fan? Sign up for our weekly specials email or tell us what favorite menu items your taste buds are craving and we'll alert you when to clear your lunch schedule.